2021 RACDC Annual Meeting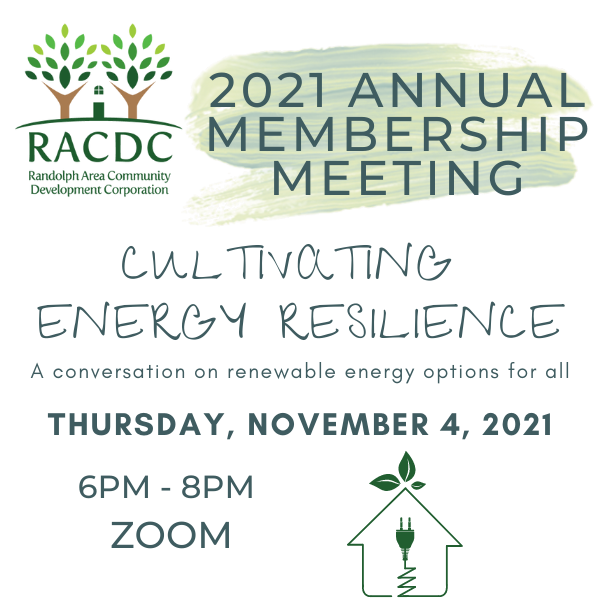 Thanks for joining us!
In case you missed it, the full recording can be found here: https://vimeopro.com/user6641730/racdc
Join us and our community on Thursday, November 4th for the 2021 Annual RACDC Membership Meeting!
In light of the ongoing COVID-19 pandemic, this year's event will be hosted virtually on Zoom in an effort to keep our members, staff, and partners safe.
This year's theme centers on how we can all contribute to and engage in our collective energy resilience as individuals, community members, homeowners and renters, and business owners. We look forward to sharing updates from the past year of progress, including the announcement of our annual Hutchinson Community Service and Energy Rising! Award winners, and an exciting line-up of expert speakers on renewable energy options and advancements.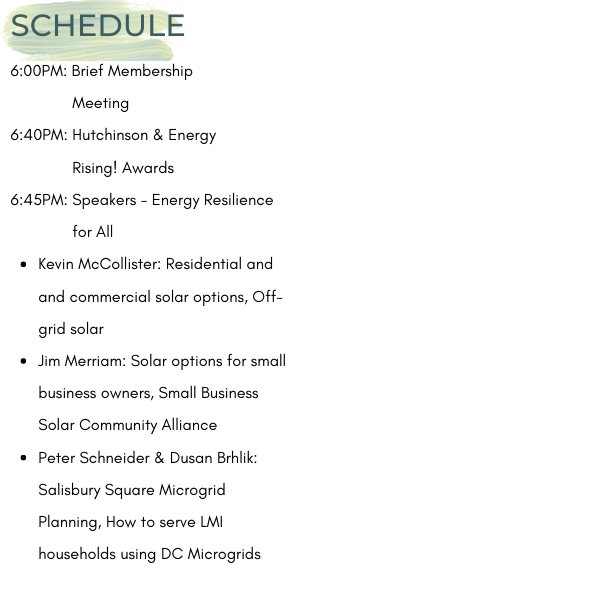 Congratulations to the 2021 Hutchinson & Energy Rising! Award Winners!
Hutchinson Award for Community Service:
Rosalind "Roz" Burgess - Awarded for her dedication to beautifying Randolph and inspiring others to contribute to a true sense of place in our community.
Energy Rising! Award:
Patty & Travis Burns of Kuya's Sandwiches + Kitchen - Awarded for their tenacity as young entrepreneurs in Randolph's Downtown and commitment to creating a space to amplify the work of local musicians and artisans.
Jennifer Bird & Adam Hineman of Tacocat Cantina & Taco Truck All Stars - Awarded for their enthusiasm in engaging in local economic and community development and commitment to serving delicious meals to those in need.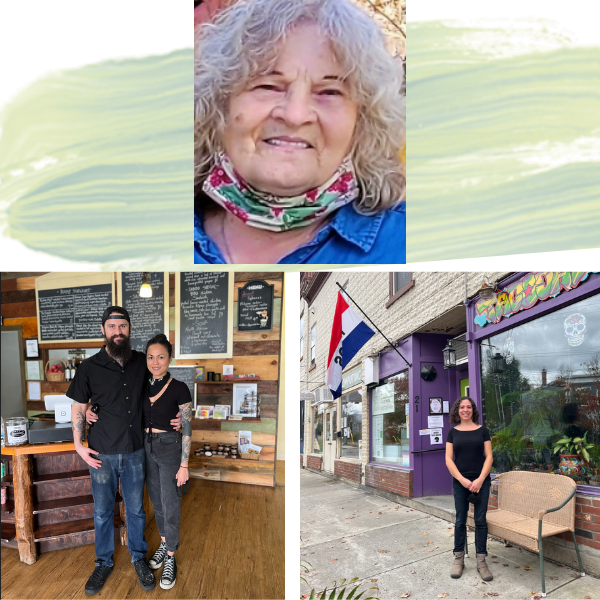 Welcome to this year's speakers:
Kevin McCollister, Partner at Catamount Solar - Randolph, VT. Catamount Solar is a local, Vermont-based, member-owned worker's cooperative specializing in affordable, high-quality solar power system design and installation services. They provide services for residential, commercial, and off-grid solar applications.
Jim Merriam, CEO at Norwich Solar Technologies - White River Junction, VT. Norwich Solar's mission is to rapidly advance the integration and deployment of affordable Solar Power to help New England companies, communities and institutions improve their Triple Bottom Line – Financial, Social and Environmental. Jim comes to Norwich Solar Technologies from SunCommon where he was Vice President of Operations. Merriam has previously worked in the renewable energy industry as VP of Operations at Northern Power Systems and at groSolar where he served as Chief Operating Officer. Jim is familiar to many in Vermont as the longtime Director of Efficiency Vermont, the nation's first statewide energy efficiency utility. He holds an electrical engineering degree and an MS in Engineering Management.
Peter Schneider, Senior Consultant for Residential Markets at Efficiency Vermont - Winooski, VT. Peter is an expert in energy efficiency and renewable energy, with significant experience in affordable factory-built housing. He specializes in energy efficiency and renewable energy for residential buildings. He is a certified Passive House Consultant and LEED for Homes Quality Assurance Designee. His most recent accomplishment is the creation and advancement of Vermont's Manufactured Housing Innovation Project. Peter has led the technical specifications development of zero energy modular (ZEM) homes as a replacement for manufactured and mobile homes, particularly at the community level. He has also led an effort to develop innovative approaches to energy exchange pods applicable to factory-built new and retrofit construction in single- and multi-family buildings.
Dusan Brhlik, Founder and CEO at Direct Energy Partners Inc - Charlotte, NC. Dusan Brhlik has pioneered the development of the DC Microgrid industry and took the technology from a concept to a commercially viable product while working at Robert Bosch,LLC as the Chief System Architect. He successfully deployed the technology nationwide at multiple locations including a Department of Defense (DOD) installation and American Honda. He co-authored papers on the benefits of the DC Microgrid with NREL, generated several patents around the DC Microgrid Architecture and its applications, served on a task group with Underwriter Laboratories (UL) to create a new standard for DC Microgrid circuit breakers and contributed to the creation of a new National Electrical Code (NEC) section, Article 712, which specifically focuses on the safe installation of DC Microgrids. Dusan founded Direct Energy Partners, Inc to accelerate the adoption of DC Microgrids worldwide.